ACCESSORIES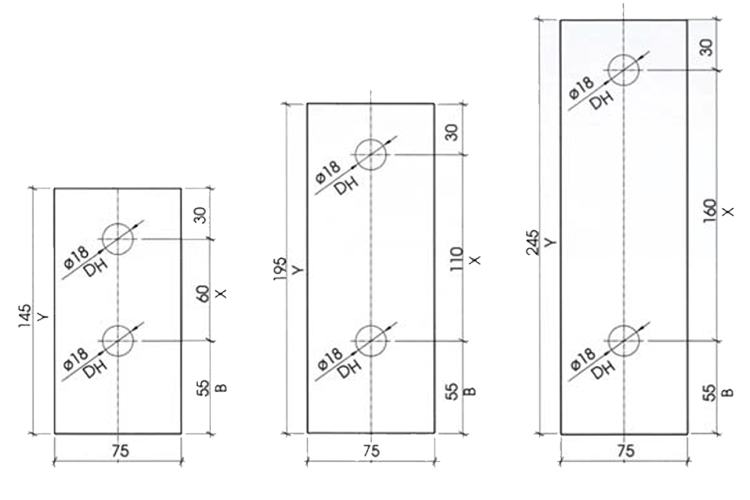 ขนาด PLATE สำหรับ แปตัว Z
CLEAT DIMENSION FOR ZED PURLIN

SECTION SIZE
(mm.)

DIMENSION (mm.)

X

B

Y

T
(thickness)

Gap

DH

150
60
55
145
6
10
18
200
110
55
195
6
10
18
250
160
55
245
6
10
18
รูปแสดงการติดตั้ง PLATE กับ PURLIN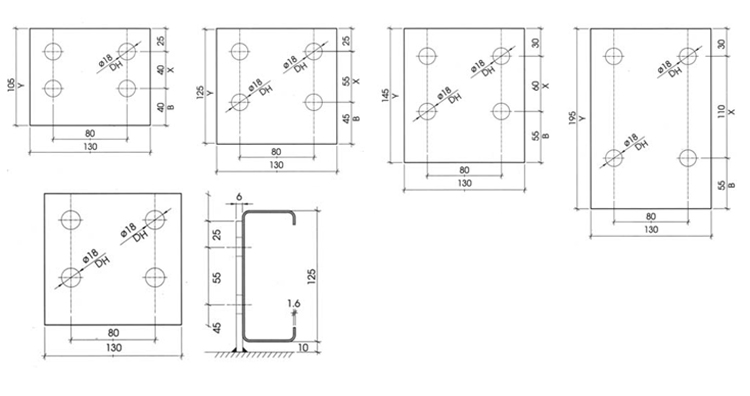 ขนาด PLATE สำหรับ แปตัว C
CLEAT DIMENSION FOR CEE PURLIN

SECTION SIZE
(mm.)

DIMENSION (mm.)

X

B

Y

T
(thickness)

Gap

DH

150
40
40
105
6
10
18
125
55
45
125
6
10
18
150
60
55
145
6
10
18
200
110
55
195
6
10
18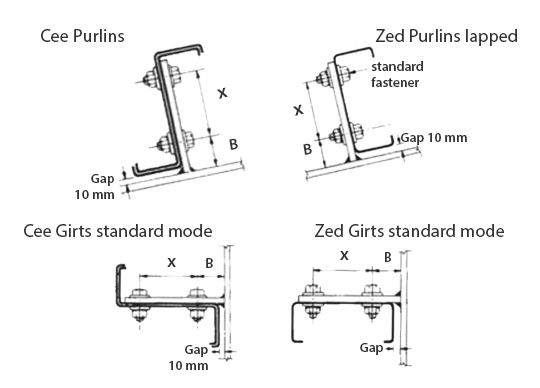 NOTE:
To minimise the tendency of Zeds and Cees to rotate, when used as purlins, it is necessary to have the top flange pointing up to the slope. Purlins orientation may be a consideration in certain projects.


Typical arrangement of in-line Cee & Zed Purlins
รูปแสดงรายละเอียด ANGLE CLEAT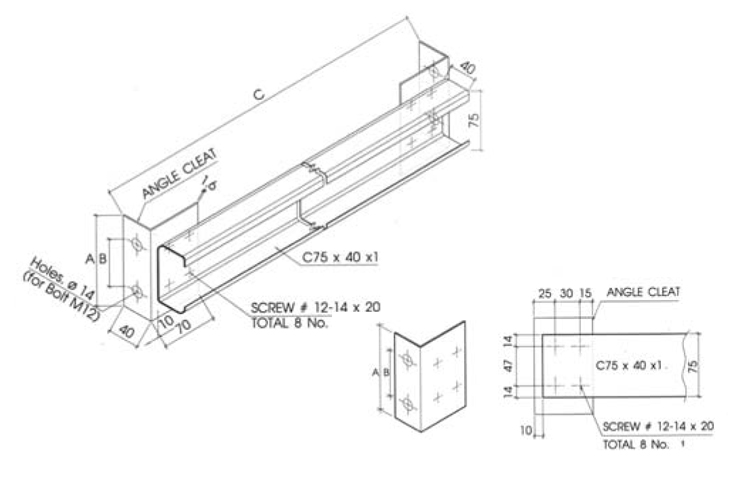 BRIDGING PIECE

SECTION SIZE
(mm.)

DIMENSION (mm.)

A

B

T
(thickness)

C

150
115
60
1.6
PURLIN SPACING LESS THAN 2m.
200
160
110
1.6
250
210
160
1.6
ระบบ SAGROD สำหรับ SPAN 4-5 M.
Yield Strength 240 MPa ø 12 mm.
GALVANIZED™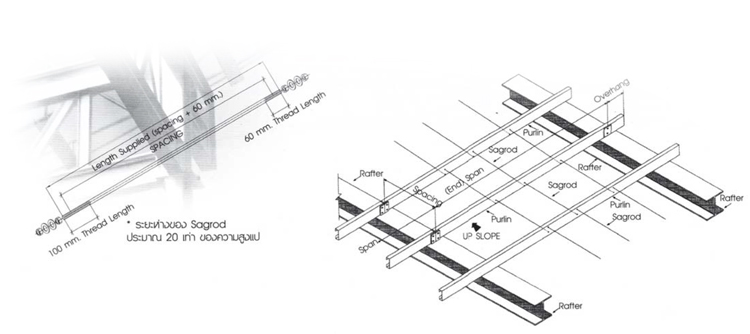 Typical Sagrod Arrangement of in-line CEE 7 ZED Purlins for Z/C 100,125,150,200,250 sections
การเปรียบเทียบ แม่เหล็กกล้า C และ Z ของ MSC กับแม่เหล็กทั่วไป สำหรับช่วง Span ตั้งแต่ 4 ถึง 10 เมตร
Purlin Span
L.,(m)

Local Purlin Span Normal Mild Steel Purlin
(Fy=245 Mpa)

MSC Purlin" High Tendile Galvanized Purlin
(Fy=450 Mpa)

Size/Weight

Purlin
Weight/Area
(Kg/sqm.)

Size/Weight

Purlin
Weight/Area
(Kg/sqm.)

4.00
C 100 x 50 x 20 x 3.2 @ 5.5 kg/m.
with 1 No. Sagrod row
3.78
C 100 x 1.5 mm. @ 2.51 kg/m.
with 1 No. Sagrod Row
1.72
5.00
C 125 x 50 x 20 x 3.2 @
with 1 No. Sagrod row
4.21
C 100 x 1.5 mm. @ 2.81 kg/m.
with 1 No. Sagrod Row
1.93
6.00
C 125 x 50 x 20 x 3.2 @ 6.76 kg/m.
with 1 No. Sagrod row
4.64
C.Z 150 x 1.5 mm. @ 3.51 kg/m.
with 1 No. Sagrod Row
2.40
7.00
C 150 x 65 x 20 x 4.0 @ 9.22 kg/m.
with 1 No. Sagrod row
6.33
C.Z 150 x 1.9 mm. @ 4.45 kg/m.
with 1 No. Sagrod Row
3.05
8.00
C 150 x 75 x 20 x 4.0 @ 9.85 kg/m.
with 1 No. Sagrod row
6.76
C.Z 200 x 1.5 mm. @ 4.42 kg/m.
with 1 No. Sagrod Row
3.03
9.00
C 200 x 75 x 20 x 4.0 @ 11.4 kg/m.
with 1 No. Sagrod row
7.83
C.Z 200 x 1.9 mm. @ 5.59 kg/m.
with 1 No. Sagrod Row
3.83
10.00
C 200 x 75 x 25 x 4.5 @ 13.1 kg/m.
with 1 No. Sagrod row
9.00
Z 250 x 1.9 mm. @ 6.63 kg/m.
with 1 No. Sagrod Row
4.42